With incredibly few days to go before Christmas, I decided to make my youngest (14) a quilt as a gift. I knew it would not be complete but the goal was to get it done enough that wrapping and snuggling on Christmas Day could be accomplished and then I could whisk it back up to the machine and finish.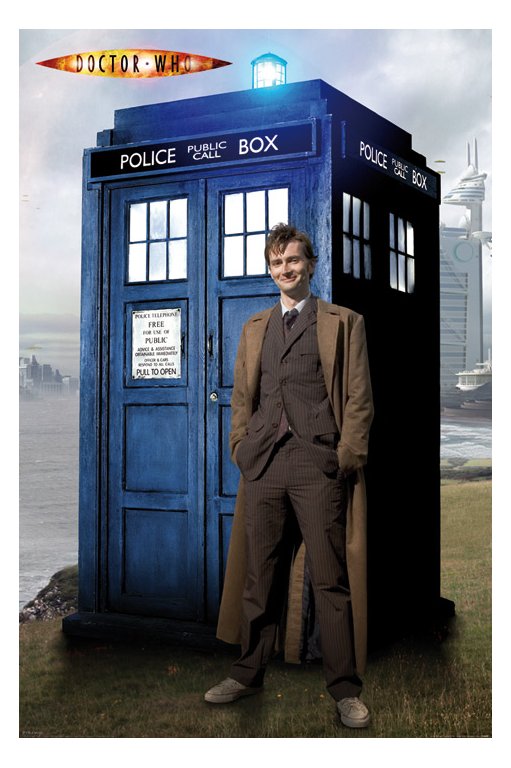 It all started with her great love for all things Dr Who on BBC. (She even has me hooked now!) I've made a couple of TARDIS bags before and blogged about it using fabric I got from Spoonflower. A new blogging friend Rebeckah saw the creations and sent me the Police Box banner sign she had created on Spoonflower. From there, my idea to create a TARDIS quilt for my daughter was born. (

(BTW, this is her favorite Doctor, the 10th Doctor.)
I banned everyone from my sewing studio aka bonus room. (There are two entrances to the room. One has a door with a lock and the other is the back staircase from downstairs. So I had to count on everyone honoring my 'stay sway'.)
Using a photo, I pieced it together as I went - trying to make it 'to scale' but really working with the Police Box banner I was gifted and the 'pull to open sign' that I found on Spoonflower.
I assembled the TARDIS 'on point' to simulate a journey through space. (You see, this is really a space traveling time machine.)
This was the first large quilt that I've attempted to FMQ on my home machine. With a well defined object in the middle, I did in the ditch quilting around the TARDIS and all the little boxes inside with a plan to fill (eventually) more of the Tardis with FMQ. The grey area was to be all FMQ and I got about a third of it done before running out of thread!!! (More thread had been ordered but I thought I had more than I actually did.)
So more incomplete than I had planned, I machine basted it together and removed all the pins and wrapped it up!
I was successful in keeping a secret from the family, especially my daughter. The gift sat wrapped under the tree without a name in the 'to' column. It was the last present to open and I asked my daughter to get off the couch to open it up. I warned her that it was not complete but that I had removed all the pins.
Her reaction was incredible!! A very loud scream followed the unwrapping. All quilts should get this reaction!
There is a Dr Who Christmas special on each year so the quilt was basted together well enough so she could cuddle under it. She can't wait to tell her friends all about it.
From my home (and the TARDIS), my very best wishes for a

HAPPY NEW YEAR

and a 2013 filled with much time for quilting!.
Happy Stitching!