I schedule time each Friday evening to do my FW blocks while my daughter is watching a movie in the same room. Since I am paper piecing all of these, I'll get the base pp done and then set them aside to be ironed and trimmed for final assembly a few days later. This system is working well for me!
Marcella
(56) - This one went together quickly. I love the red and gold together.
Margaret
(57) - Clearly liking the red / gold combination this week!
I put together a
pinterest board
of just my Farmer's Wife blocks so I can get a good look at them all at once. Time to start focusing on the right variety of fabric combinations.
Interested in playing along? These are from the book -
Farmer's Wife 1930's Sampler Quilt
and there are two great quilt alongs with plenty of tips and ideas.
VeryKerryBerry
is doing the blocks in numerical order while
Gnome Angel
is doing them in order from easiest to hardest.
My fabrics are from Moda Fig Tree. There are so many different versions underway right now - so much inspiration out there!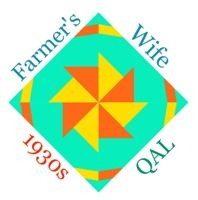 Happy Stitching!