I've continued at my twice a week block pace. It works for me - usually spend time Friday evening while my daughter sits nearby watching a movie.
Magnolia
(54) - before making a red magnolia, I googled to make sure I could find pictures of a deep pink / red flower! (I just saw a pink one in real life which was cool.)
Malvina
(55) - Lots of little pieces here but I just took it slow and it went ok.
Now with every group of 9 blocks, I do a group shot. Normally the group shot is in order - this first one is all messed up. (Whoops!)
Here are blocks 46 through 54 - (
Lola (52), Katherine (49), Jewel (46), Lucy (53) , Lady (50), Joy (47), Magnolia (54), Lily (51) and Judy (48)
)
Here are blocks 37 through 45 - (Georgia, Golda, Grandma, Grandmother, Granny, Heather, Hope, Iris, and Jenny)
Here are blocks 28 through 36 - (Dolly, Doris, Em, Eva, Fanny, Farmer's Wife, Fern, Flora and Geneva)
Here are blocks 19 through 27 - (Carolina, Caroline, Carrie, Cat, Charlotte, Coral, Crystal, Daffodil and Dinah)
Here are blocks 10 through 18 - (Ava, Bea, Becky, Belle, Betty, Blossom, Bonnie, Bride, and Carol)
Here are blocks 1-9 - (Addie, Aimee, Alice, Ann, Anne, April, Augusta, Aunt, and Autumn)
I put together a
pinterest board
of just my Farmer's Wife blocks so I can get a good look at them all at once. Time to start focusing on the right variety of fabric combinations.
Interested in playing along? These are from the book -
Farmer's Wife 1930's Sampler Quilt
and there are two great quilt alongs with plenty of tips and ideas.
VeryKerryBerry
is doing the blocks in numerical order while
Gnome Angel
is doing them in order from easiest to hardest.
My fabrics are from Moda Fig Tree. There are so many different versions underway right now - so much inspiration out there!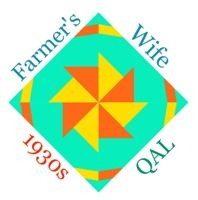 Happy Stitching!