Meet February - both the month and the mini quilt!
Why am I calling it February? No idea. I always like to name my projects and inspiration comes from wherever you can get it.
I had fun doing simple straight line quilting.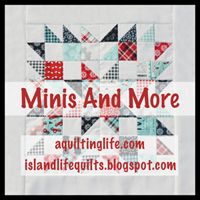 This runner is my interpretation of Sheri's
Hope Chest mini
quilt pattern. When I started the project, I had every intention of making the whole thing but other things kept jumping up and down for my attention. I like this 3 block version!
Sheri of
A Quilting Life
and Michele of
Island Life Quilt
s gave us the challenge for the January's Minis and More QAL.
Here in NC, it looks like we are easing into February with several days of warm temperatures.
February is also the beginning of
Elm Street Quilts Hugs
and I would like to turn February into a month of handmade hugs.
My blog series kicks off today on my
Elm Street Quilts
blog where I'll be posting all month about different groups that accept handmade items - quilts, pillowcases etc - and distribute them to someone who needs extra support. Someone who needs to know that people care.
Do you have some fabric in your stash that would make a fabulous donation quilt? Some UFO blocks that could be assembled into a baby quilt for donation? Or maybe some novelty fabric that would make a terrific pillowcase.
Or maybe there is a friend or family member going through a rough time and a gift of handmade would help.
Share via blog, Facebook, Instagram and join the linky party here. Please help me spread the word and let's spread kindness with some handmade hugs. The social tags are #handmadehug and #ESQHugs.
Read more about turning that novelty fabric into something useful on today's post on
Hugs: Give a Pillowcase.
I'll be linking my February quilt at
Blossom Heart Quilts, Sew Fresh Quilts and Freemotion by the River.
Happy Stitching!