I've caught myself up with four blocks today in the Farmer's Wife QAL.
Do you have your copy of the book
Farmer's Wife 1930's Sampler Quilt
yet?
Here are my blocks!
This is
Alice (
block 3). I heard she was a troublesome block so I took it really slow. Looks like she still needs a bit of a pressing but it assembled ok.
and
Ann
(block 4):
And
Anne
(5) - I really like the spin on this one
And finally (for today anyway) is
April
(6) - she looks a bit distorted in the photo looks fine in person.)
I've appreciated the tips
that Kerry have posted on her blog
VeryKerryBerry
for the QAL.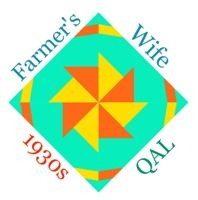 I am using Fig Tree fabrics from a couple of different lines from my stash. I'm still a bit undecided on whether I'll use this background fabric for all the blocks. But in a fit of 'just in case', I found some more of it on line and ordered it along with some alternative Fig Tree neutral prints.
Of course, as soon as that 'your order has shipped' message appeared in my inbox, I found a bunch of this same fabric in my sewing room. Quite a bunch. As I remember now, I used it as a backing for a quilt that I took to my LAQ so I've all the trimmed off bits.
All those trimmed off bits is actually a lot of fabric. Easily over a yard. So now I have more than enough!
I always do this. Decide to make a quilt from stash, squint and figure I need a bit more of a print, order more and end up with more fabric than I started with!
Am I the only one who does this?
Back to the QAL. In addition to the one sponsored by
VeryKerryBerry
, t
here is a second QAL from
Gnome Angel
which is just starting up. This QAL will do the blocks in a different order and I'll be following along on that one as well.
Happy Stitching!