I had so much fun climbing back onto the farming wagon.
Here is Addie (block 1):
and Aimee (block 2)
I really enjoy paper piecing and find these small blocks quite fun to assemble. Neither of these were too difficult although there are some tough ones yet to come!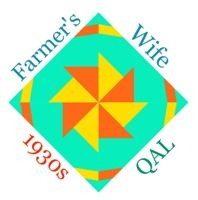 I'm thinking of doing two blocks a week and will be following along with the
VeryKerryBerry
QAL which is doing the blocks in the order they are in the book. (Kerry had some great paper piecing tips on the first post.) I like doing them in this order because I won't let myself skip a block even if it looks difficult!! There is a second QAL from
Gnome Angel
which will do the blocks in a different order.
The fabric I've started with is from an older Fig Tree line. I will need to buy more fabric. (smile)
Happy Stitching!