This time of year, I am always tempted by multiple quilt-a-longs that pop up all over blog land.
Melissa is doing a Star Light Star Bright quilt-a-long. You can make one block or many blocks. I am going to join this one. The information on her blog is here. This starts on Jan 15th and runs through end of March. The cool part for this one is Melissa clearly provides instructions for multiple size options - even a one block version.
Love Snowmen so Quilt Doodle Doodle's quilt along is one I am going to do. This is a mystery BOM. I intend to make this from my stash but did have to order a good background fabric.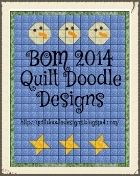 Fat Quarter Shop has started a Wishes Quilt Along, a 12 month block program. I like the basic concept here - you are encouraged to donate to the Make a Wish foundation as you build out the quilt. I've going to do this in red and aqua. These are 14" blocks which I am not so fond of so perhaps I will scale things down.
Classic Meets Modern looks interesting - this is a 12" block every month.
Monique is at it again with another Blogger Girls BOM II. I enjoyed making the blocks last year - although I never did assemble that quilt top. Perhaps I should 'combine' the efforts? The intriguing part of this one is you make 2 blocks each month - a variation caused by different fabric placements.
SewCalGal has declared this to be the year of Red and White challenges. Details aren't available until later in the month but I am intrigued. I've done her FMQ challenges the last two years.
Pat Sloan has a mystery BOM called Globetrotting.
I found this really cute penguin one from Fat Cat Patterns. I think I will make a mini version of this one!
Finally, SewCalCal is encouraging working on Christmas throughout the year. I made the pledge and now need a plan. However, I did whip up a small jewelry holder and will put it aside until December. I had all intentions of making this last Christmas and it was sitting all kitted out on my table so I put it together. There is a linkup party each month so I am hoping I will get some ideas!
Happy Stitching!